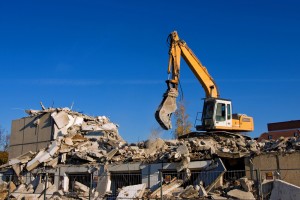 4Granite Inc. is a locally owned SDVOSB & DVBE certified company. The 4Granite Inc. team provides construction services to the communities of the High Desert throughout Southern California. One of the services that they provide is demolition and debris clean up.
4Granite Inc. is licensed to handle hazardous waste and to clean up hazardous waste sites. The 4Granite Inc. team is lead by a project manager who makes sure that the project is being completed according to the plan of action and within the guidelines of Federal, State, and local laws. Through an extensive network of recycling options, 4Granite Inc. disposes of debris in a responsible way. Their goal is to keep as much debris as possible out of landfills. All material that is disposed of is done so according to regulation.
Demolitions & Clean Up Services Include
Building demolition, including residential and commercial buildings.
In-Ground Pool removal and site mitigation.
Concrete, dirt, and rock excavation and removal.
Environmental clean up, including landscape clearing and site prep.
Household Junk including old appliances, furniture, fixtures, electronics removal.
Construction debris including windows, doors and lumber.
Toxic substance cleanup and removal.
Renovation and shelving, fixtures, office debris.
All types of debris removal and disposal.
4Granite Inc. can also help you with the permit process. In some cases, they will obtain a permit for your project. If an inspection is needed, the project manager will assist or handle the inspection for you.
As an environmentally conscious company, 4Granite Inc. offers construction services that are green in nature and sustainable in practice. The project manager is there to ensure that the work is correctly performed the first time and that the project stays on time and on budget. The project manager is available for answering all of your questions and part of their work it to keep you informed each step of the way. The entire 4Granite Inc. team is experienced and professional. The quality of work performed is of the highest standard. Projects include residential, vacant land, tenant units and commercial grade projects.
If you would like more information on how the 4Granite Inc. team can help with your demolition and debris clean up project, then just give them a call. The professionals at 4Granite Inc. are happy to answer all of your questions.
4Granite is licensed and certified by the State of California to provide general contracting services for A, B & HAZ projects. If you have a demolition or debris hauling project, put the experts at 4Granite Inc. to work for you.