4Granite Inc. (4G) is a Service Disabled Veteran Business Enterprise (DVBE & SDVOSB) specializing in general engineering construction. 4G was established in 2004 in California and is based in the Southern California area of the High Desert, specifically in Apple Valley. Our service area includes all of the Western United States.
4G is certified as a Small Business (SB- Micro) and a Disabled Veteran Business Enterprise (DVBE) through the Department of General Services (DGS) and as a DVBE through the California Public Utilities Commission (CPUC).
4G has completed projects throughout the U.S. for Federal, State, and private agencies alike. A few of our customers include the U.S. National Park Service, U.S. Bureau of Land Management, U.S. Department of Homeland Security, U.S. Department of the Navy, U.S. Forest Service, Department of Veterans Affairs, Rio Tinto Minerals, Geo-Logic Associates, Stantec Consulting Services Inc., Lockheed Martin, Southern California Gas Company, and CB&I Federal Services, LLC.
Areas of Expertise
Foam Plugging (PUF-Seal)
Earthworks, road repair, and maintenance and construction
Demolition
Fence building, gate installation, fence repairs, and gate repairs
Building remodels and renovations
HDPE welding and pipeline installation
Construction support services, including rapid and emergency response for construction issues
Meet the 4Granite, Inc. Team
Joe Webb – President and CEO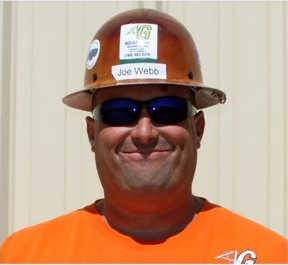 Joe is a U.S. Marine Corps veteran and his background is in Project Management with more than twenty years of general engineering construction, mining operations support, and environmental experience at commercial and federal government sites. Joe has an extensive background in organizational and business development and management, marketing, contracting, hazardous, toxic and radioactive waste remediation, and the engineering related industry.
Education/Registrations/Certifications
State of California Licensed Class "A and B" with HAZ Contractor – License #898549
United States Army Corps of Engineers, Construction Quality Management Trained
40- Hr Health and Safety Training: OSHA (29 CFR 1910, 12)
OSHA 10 and 30-Hr Construction Safety Courses
MSHA 24-Hr Health and Safety Training (Form 5000-23)
8-Hr Hazardous Waste Supervisor
Red Cross First-Aid and CPR Training
Certified Forklift Operator
Certified Heavy Equipment Operator
Certified Nuclear Gauge Operator
For More Information
Please contact 4Granite Inc. for more information, including a complete list of references, and allow these professionals to provide you with the answers to all of your construction questions.