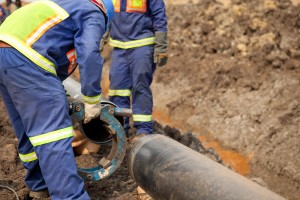 4Granite Inc. is a locally owned SDVOSB & DVBE certified company. The 4Granite Inc. team provides construction services to the communities of the High Desert throughout Southern California. They provide a complete line of construction services that include HDPE Welding and Installation. They are licensed and certified by the State of California to provide general contracting services for A, B & HAZ projects. If you have an HDPE Welding and Installation project, put the experts at 4Granite Inc. to work for you.
HDPE stands for High Density Polyethylene, and as a product it is very technical in terms of fabrication and installation. HDPE requires experience and know how, of which 4Granite Inc. has a lot. The  welders at 4Granite Inc. are fully capable of welding and installing pipes that are made from HDPE.
Services Include
Initial site evaluation that includes a survey and cost estimate.
Large diameter pipe assembly.
Pressure pipe fitting/assembly.
Pipe planning and diagramming.
Sizing
Joining and fabrication via thermal or mechanical systems.
With the unique properties of HDPE pipes, the construction process is critical. Many times these pipes are carrying fluid that should not be released into the environment. That is why construction and fitting should be handled by a company with experience and knowledge to do the job right. 4Granite Inc. has a qualified staff of certified welders for all types of pipe fitting, and installation. The engineers at 4Granite Inc. are experienced in designing piping systems. The quality of a pipe weld is directly related to the skill of the welder. All of the 4Granite Inc. welders are certified.
If you would like more information about how 4Granite Inc. can benefit your project, please call and talk to the one of their professionals today. They will happily provide you with honest answers to all of your questions about HDPE piping and welding projects.